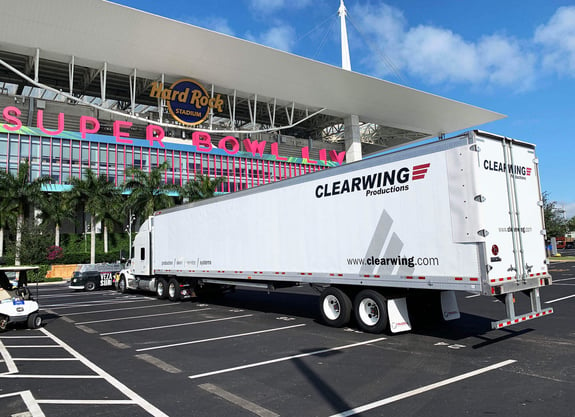 Clearwing will keep your show on the road & within your budget.
Clearwing specializes in transportation for live events and specialized services across the United States. We deliver a complete range of services to fulfill your transportation needs including Event Transportation, Touring, and Freight Coordination.
We have the team to make sure everything is handled seamlessly. Our experienced, DOT compliant drivers, along with our superior fleet, do whatever it takes to get your event's cargo to load-in on time, every time.
In recent years, we've transported gear for Van Morrison, Sublime with Rome, 3OH!3, Ke$ha, Gavin Degraw, The Dalai Lama, The Mormon Tabernacle Choir, Steve Miller Band, Neil Finn, O.A.R., Phillip Phillips, The Fray, Yellowcard, NCAA Final Four, Super Bowl, and NASCAR.
Event Transportation
Clearwing knows that you put everything you've got into making your event successful. Now let Clearwing handle your transportation needs. We transport gear for corporate events, trade shows, conferences, and exhibitions.
Touring
Get your show on the road with Clearwing. We are experienced in transporting gear for touring musical acts, theatrical shows, exhibitions, political campaigns, and more. Your gear will arrive to your gig in style and on time every time. Not touring with our gear? That's okay. We proudly provide tour transportation for other production companies.
Freight Coordination
Clearwing can help. We handle all of the details of freight coordination, including: coordination of last-minute shipments, dedicated, white-glove, door-to-door services, and multi-city stop trade shows and event equipment movements