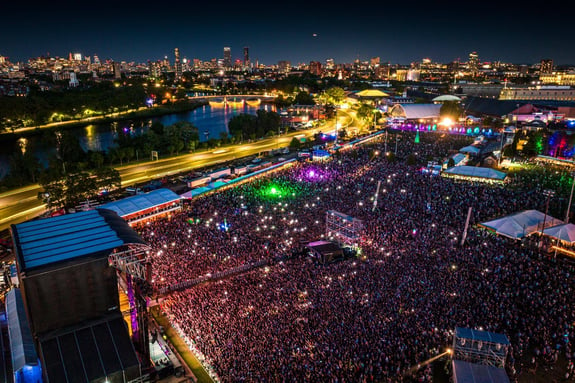 Two companies. Extensive capabilities.
It all started in 1976. Under the name Clearwing Audio, Gregg Brunclik, President/CEO, and his business partner start providing sound engineering for local events and festivals in Milwaukee, Wisconsin. Since, Clearwing has opened additional locations in Arizona and Colorado to supplement its Wisconsin roots. Still family owned and operated, we take a family-first approach to our company. We are committed, resilient, selfless, & transparent. We are relationship driven, agile, & industry experts. We exist to create amazing entertainment experiences.
Clearwing Productions
Clearwing Productions provides support, technology, and resources for musicians, venues, sporting events, corporate gatherings, performing arts centers, churches, and more.
We are designers. We are engineers and technicians. We are purveyors of cutting-edge pro audio, lighting, and video equipment and production.
We've deployed gear and crew across the U.S. and all over the world.
In addition to live entertainment, Clearwing's transportation division boasts a sizable and reliable fleet capable of getting your stuff wherever you want it, and whenever you need it there.
Clearwing Systems Integration
Clearwing Systems Integration specializes in the design, installation, sale, and service of high-quality long-lasting audio, video, lighting, drapery, rigging systems, and custom solutions. We implement our capabilities in churches, schools, performing arts centers, museums, casinos, resorts, stadiums, arenas, and themed experience applications across the U.S. and all over the world.
Our team tailors our services to fit the complexity and demands of each project. Clearwing is committed to providing highly qualified team members that are trained, skilled, and certified in the sale, design, and integration of custom systems to accommodate project sites of all types and sizes.
With effective communication, collaboration, and thorough planning, we provide exemplary, cost-effective, and on-time results. Clearwing is there every step of the way to ensure that your project goes smoothly, from the first contact to project completion. Additionally, we offer ongoing support to clients with on-site technical services and a 24/7 emergency hotline.
At our core, we embellish transparency, selflessness, and commitment. These values allow us to foster long-lasting relationships with prospects, clients, and the community. Clearwing regularly holds open-to-the-public trainings, seminars, manufacturer product showcase events, and provides further resources to encourage knowledge building and networking opportunities. Within our brick-and-mortar locations, you'll find fully stocked retail stores offering grab-and-go technical gear for any last-minute needs that may arise.