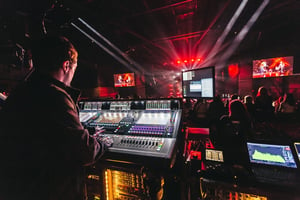 It takes individuals with a variety of specialties in different areas to facilitate the range of work we do.
Who we are
Clearwing Productions is the company behind the scenes - making shows and events happen across the country.
Whether you want to be on the road traveling the country or stick a little closer to home, Clearwing Productions offers you the ability to work on some of the most iconic events around the country. Your schedules will shift to meet the ever-changing needs of live events and no two days are the same.


Clearwing Systems Integration designs, sells, installs, and services production equipment into a large array of venues and spaces.
This is the place for those who have a passion for delivering intricate, permanently installed performance based systems. If working in a construction environment is your preference but you simply can't live without entertainment technology in your life, Clearwing Systems Integration is the next step in elevating your career.
What we offer
Benefits
We offer company paid Life Insurance, Long Term Disability, Employee Assistance Program, Health Advocate Program, partial company-paid medical insurance and 401k with a 10% match of employee contribution. Other available benefits include Dental, Vision, Short Term Disability, Legal and Travel Assistance, PTO, PST, and Company Paid Holidays.
Growth & Experience
We strongly encourage our staff to always share their knowledge and experience to help us grow. Whether that means sharing job-specific knowledge with a peer or suggesting changes to management, we're all ears. We invest in training and professional development for all team members. We make sure to understand our client's goals and expectations to give options and the correct solution. We deliver a product we are proud of.
Culture
We foster a solutions based culture. We focus on maintaining a vibrant workplace where there is psychological safety. We encourage a healthy work/life balance. We create an environment that pushes personal, professional, and financial growth for all.
Values & Anchors
We are committed, resilient, selfless, & transparent. We are relationship driven, agile, & industry experts.
Our teams have backgrounds in...
AV Design, Lighting Design, Rigging Design, Project Management, Low Voltage Installation, Electricians, Programmers, Construction, Engineering, Drafting, Tour Management, Operations, Sales, Marketing, Accounting, Procurement, Human Resources, Sales, Transportation, Logistics, Shipping, Receiving, Warehousing, and more.